Bent wall (dofen akuma) by a Sukkah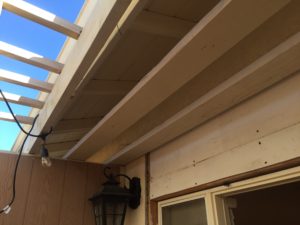 This overhang from the wall of the house is on a higher level than the Sukkah.
I am aware of dofen akuma in this case and the over hang isn't more than 4 Amos over Sukkah. But does that require us to completely cover the entire area directly under the over hang (I.e. posul scach) or we can leave it as is?
Answer:
If you need this wall – there are no three walls without it – the area under the overhang should be covered with either kosher schach or other material.
Sources:
ראה ב״ח תרלב, ב. מג״א שם ב. שו״ת פנים מאירות סא. אבל חזר בו בקו״א. בכור״י תרלב, ה. משנ״ב שם א בבה״ל ד״ה הכותל. ערוה״ש שם ד. שו״ת חלקת יעקב או״ח רכג. מנח״י ו, ס.
#5862
---