Can I possess a statue of the Rambam?
Question:
I received this from my grandfather who recently passed away, I'm wondering if I'm allowed to keep it or is this an issue. It's the Rambam.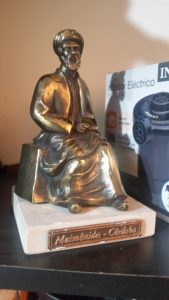 Answer:
It is not allowed to own a statue of a human being even if the intent is not for idolatry; the concern is chashad (suspicion).
If this item is very important for you to keep, you may scrape off the nose (or according to some  – the ear) and thus it will not be a complete face.
Sources:
Kitzur Shulchan Aruch 168:2. Beis Lechem Yehudah 141:10
See also references here:
#5460
---